With so many skateboard deck options available now, choosing the right one can be overwhelming. We've compiled a list of the new skateboard decks for 2023 to help you choose.
From the classic 7-ply maple wood decks to the more modern composite materials, we've got you covered. 
We've considered factors such as durability, pop, concave, and graphics to provide a diverse range of options for all types of riders, whether you're a beginner or a seasoned pro.
Our list features the latest designs from 4 of our favourite brands and the decks that we are coveting so far in 2023.
So, get ready to upgrade your setup and discover the best skateboard decks of 2023. Whether you're looking to step up your game or just in need of a new deck, our list is the ultimate guide to help you make the right choice.
Powell Peralta Decks – Perfect for freestyle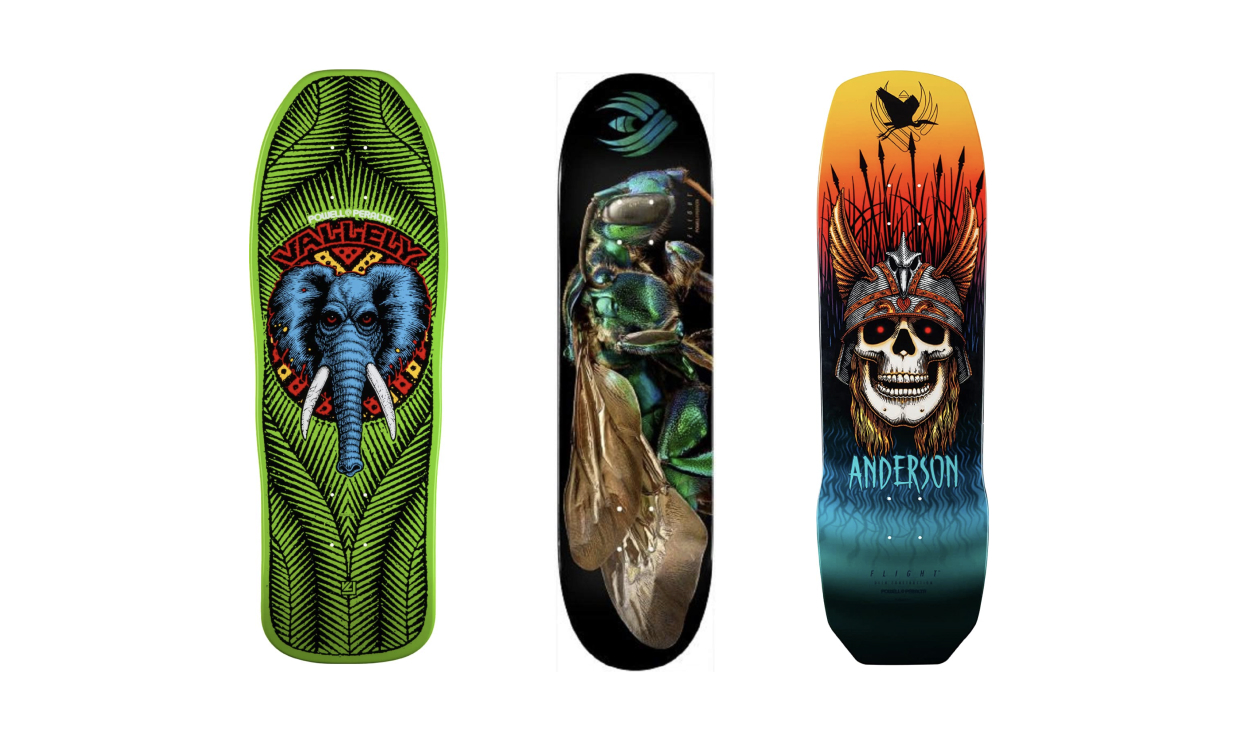 Powell Peralta, a renowned skate brand known for its quality and innovative designs since the '70s. They were one of the first companies to introduce new technologies such as the AirLam press and the Ripper graphic, which revolutionized the way skateboard decks were made. 
Founded by legends George Powell and Stacy Peralta, the team also includes Tony Hawk, which has cemented their place in skateboarding history. 
Powell Peralta continues to lead the way in skateboard design, making them a favourite choice for skateboarders globally.
Deck length 32.8 Inches
Shape 9.13″ – Andy Heron Skull
Item weight 1.30 kg
Material: Fibreglass and Maple
Powell Peralta's Flight Deck is a tough skateboard deck renowned for its strength and durability. 
While the brand claims it can last up to 10 times longer, it can withstand 3 times the wear and tear of regular decks, making it ideal for heavy skaters and board breakers. 
The deck features two triaxial fibreglass layers, held together by black epoxy resin and five Maple wooden plies, providing a great pop that doesn't diminish with time. 
The Flight Deck is a reliable option that won't easily snap in half, making it a worthwhile investment for serious skateboarders.
Powell Peralta Anderson Skateboard Flight Deck
Price: From £124.00
Deck length: 30 Inches
Shape 163 – Concave SP3
Weight: 1.36 kg
Material: Maple
This limited reissue skateboard is from 1988 Mike Vallely's Powell Peralta Pro model. This is an exact replica of the original Vallely Elephant board. 
Mike Vallely also known as Mike V, is one of the pioneers of street skateboarding. So this skateboard is part culture and part history.
Powell Peralta re-issue decks are close reproductions of their 1980's counterparts, featuring the original top and bottom graphics, shape and concave. 
Made with hard rock maple and glue that's warranted against delamination. So, this board will resist peeling apart and can last you a long time.
This may look like a cruiser to some, but this board was the original street skate shape from 1988. Whether you're looking to hit the streets or hang it on your wall, this is an important piece of skate culture to have in your life.
Powell Peralta Mike Vallely Elephant Old School Reissue Skateboard Decks
Price: From £138.00
Powell Peralta Flight Pro Shape Skateboard Deck
These are ultra-strong (lightweight) boards that even the most furious skaters couldn't break. 
To test its strength Powell Peralta team riders Scott Decenzo and Brad McClain put these durable decks to the test with a full-size SUV (and also by skating the board).
The SUV couldn't break the deck!
Scott and Brad run over the board 5 times with an SUV and they could still skate the board. So, enough said about its strength. This board is durable!
Light as a feather, giving you 20% higher Ollie's
The Flight Pro deck is as light as it is strong, meaning that you can hammer it as much as you want and get even more air than you usually would. 
Here's a skater review of the board:
"You'd think a board on this scale of lightness would potentially be weird to get used to but not the case. 
The pop on this thing is SUPER snappy, and I can absolutely notice a significant increase in my overall trick height. 
My Ollie's are now easily 20% higher on avg
Due to the overall lightness of this setup it's much less exhausting, skating harder for longer because of it. 
After having experienced these new advancements I'm going to find it a lot harder to skate anything else. Highly recommend
Powell Peralta Flight Pro Shape Skateboard Deck
Price: From £99.95
Bamboo skateboard decks – Best concave
Like the Flight Pro skateboard decks, bamboo decks are unbreakable (almost).
Bamboo is a sustainable choice that can help to produce better boards. Skateboards made of bamboo are more durable, lighter, and stronger than maple decks.
So, we've featured a few bamboo decks in this review, so that you can try them out for yourself:
Lucid 33″ Bamboo Old School Skateboard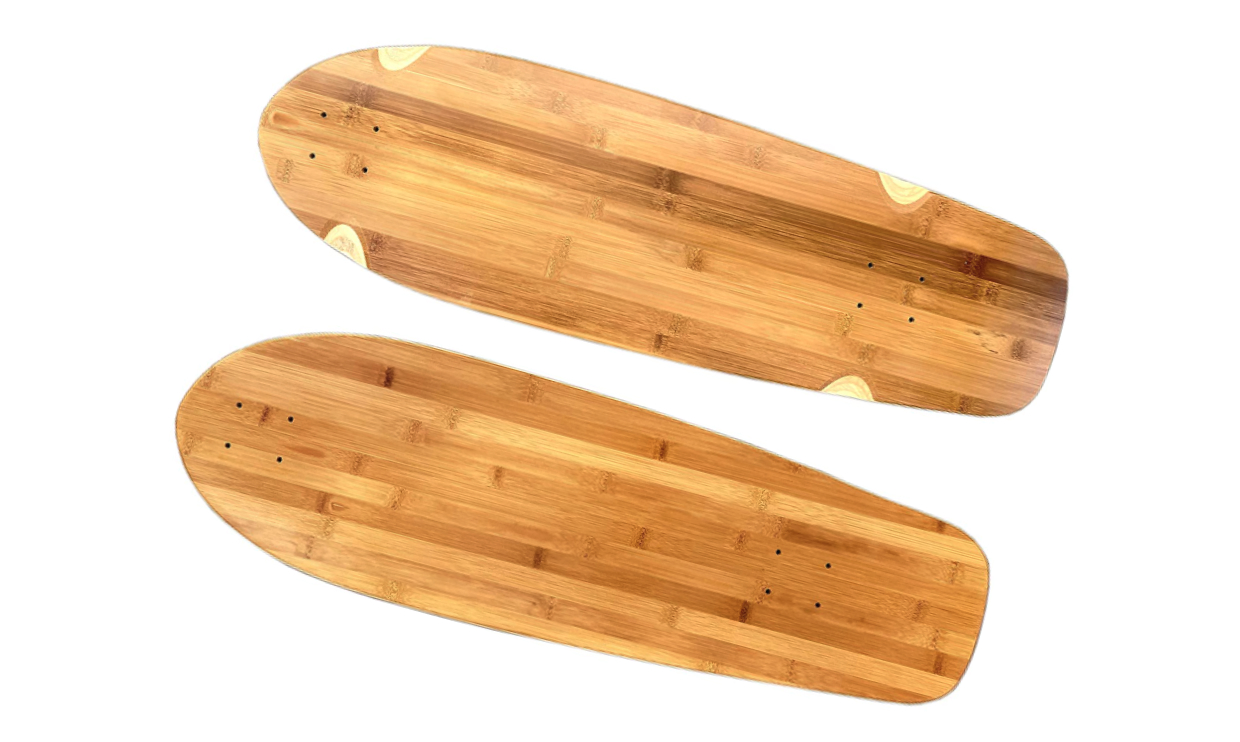 If you're looking to transition from a traditional Maple board to bamboo, this one might be for you. It's got a mix of maple and bamboo layers.
There's a 4.5 out of 5 rating for these boards and skaters say the following:
"I love it honestly, the bamboo is so sturdy and beautifully crafted.. so pretty I don't even want to ride it."
Brand LUCID
Deck length 33 Inches
Deck width 10 Inches
Item weight 3 Pounds
Material Bamboo, Maple
Durometer hardness 78A
Lucid 33″ Bamboo Old School Skateboard
Price: £90.58
Magneto 44 inch Kicktail Cruiser Longboard Skateboard
Brand Magneto
Deck length 44 Inches
Item weight 9.5 Pounds
Material Aluminium, Maple
Wheel size 70 Millimetres
Durometer hardness 78A
If it's a cruiser (longboard) you're after, then check out the Magneto 44-inch. It's got 4,554 reviews and a 5 out of 5 ratings.
When it comes to longboarding, strength is super important. Due to the space between the front and back wheels, there's potential for your board to flex a lot, meaning your ride gets too loose and saggy.
With the bamboo decks, you get strength and flexibility, which is perfect for this 44" board. FYI, if your looking for wheels to compliment your longboard deck, longboard wheel hardness plays a big part in the smoothness of your ride. 
"Sturdy and FUN for any rider!!"
"The board feels substantial but isn't too heavy. I was also surprised at the effectiveness of the gritted wood top as opposed to regular grip tape."
Magneto 44 inch Kicktail Cruiser Longboard Skateboard
Price: £135