As a very well-regarded brand in the skate industry, we wanted to talk about Globe International Ltd as a brand, where it all started, the team behind them and what makes Globe skateboards so highly rated.
It all started back in the '80s with three Australian brothers; Stephen, Peter and Matt Hill. Fresh out of the Melbourne underground skateboarding scene, they had a passion for boarding and all the brands that came with it. And so began their entrepreneurial journey.
The first business the brothers set up was Hardcore Enterprises, where they imported the latest skateboard equipment, promoted the sport across Australia, and helped to grow the Australian boardsports industry.
The Hills then went on to develop their own labels, including the skate footwear brand, Globe shoes, Mooks and FXD workwear as well as acquiring Salty Crew apparel.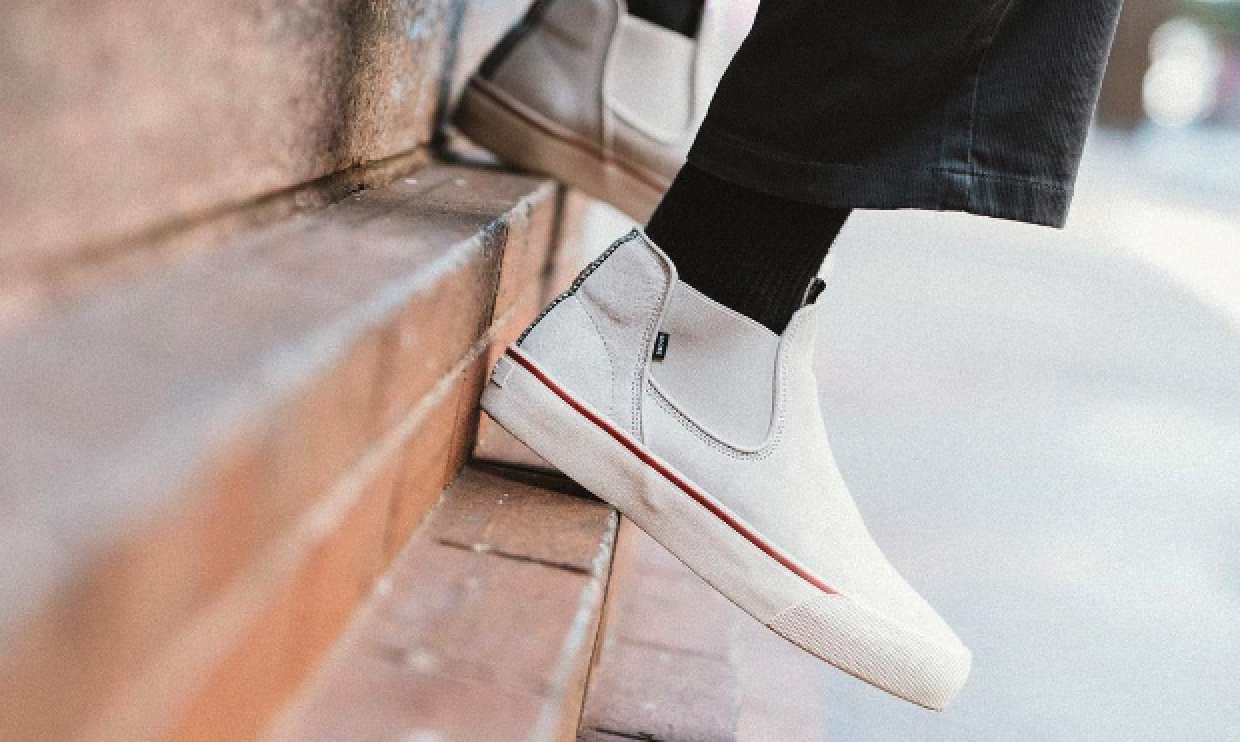 Their multi-brand approach, creativity and ongoing support for the skate scene have seen Globe holding its own for the last 40 years. They continue to design, develop and manufacture high-end products and produce some of the quality skate hardware, apparel and footwear on the market. 
Globe Skateboards Team
Like every successful skateboard brand, there is a team of professional skaters riding for them. 
Even in the early days, Globe had world-class pro skaters riding their boards, including the legendary Rodney Mullen. 
Currently on the Globe team are Austyn Gillette, Mark Appleyard, Sammy Montano, Aaron Kim and Rodney Mullen. 
Sustainability at Globe
Globe is committed to using more sustainable fibers in its fabrics and is focusing on creating premium evergreen clothing. They're also working in partnership with the National Forest Foundation to plant new trees to replace the ones used for their skateboards.
Check out their Living Low Velocity for the Environment video for the full low down:
Globe Skateboards
Having been around for as long as they have, Globe has learned a thing or two about producing the best quality skateboards and decks. They are known in the industry for crafting the lightest, most durable boards that can withstand the narliest tricks.  
Globe Skateboard Decks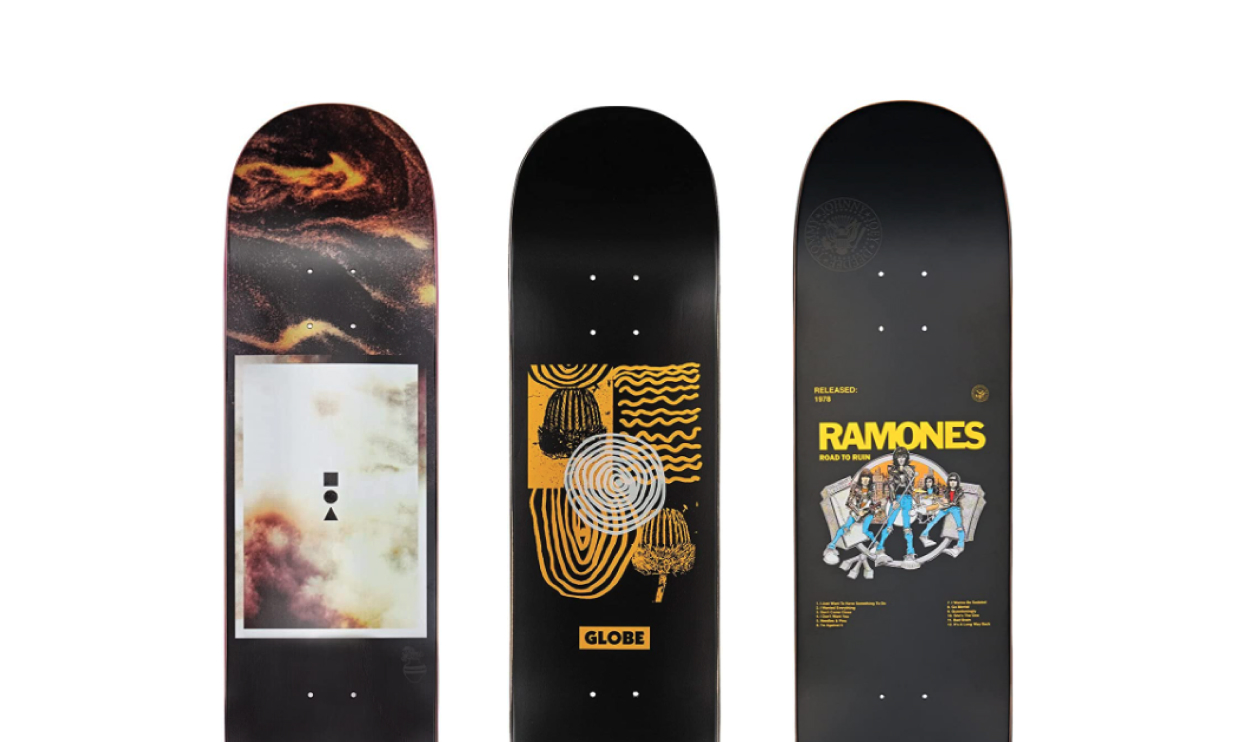 They've made pioneering leaps in deck design, making them lighter, more robust, and with the perfect concave. 
Each Globe skateboard deck is pressed in premium hard rock maple and their unique "Resin-7" formula, making their boards super strong and less prone to warping. 
Globe Completes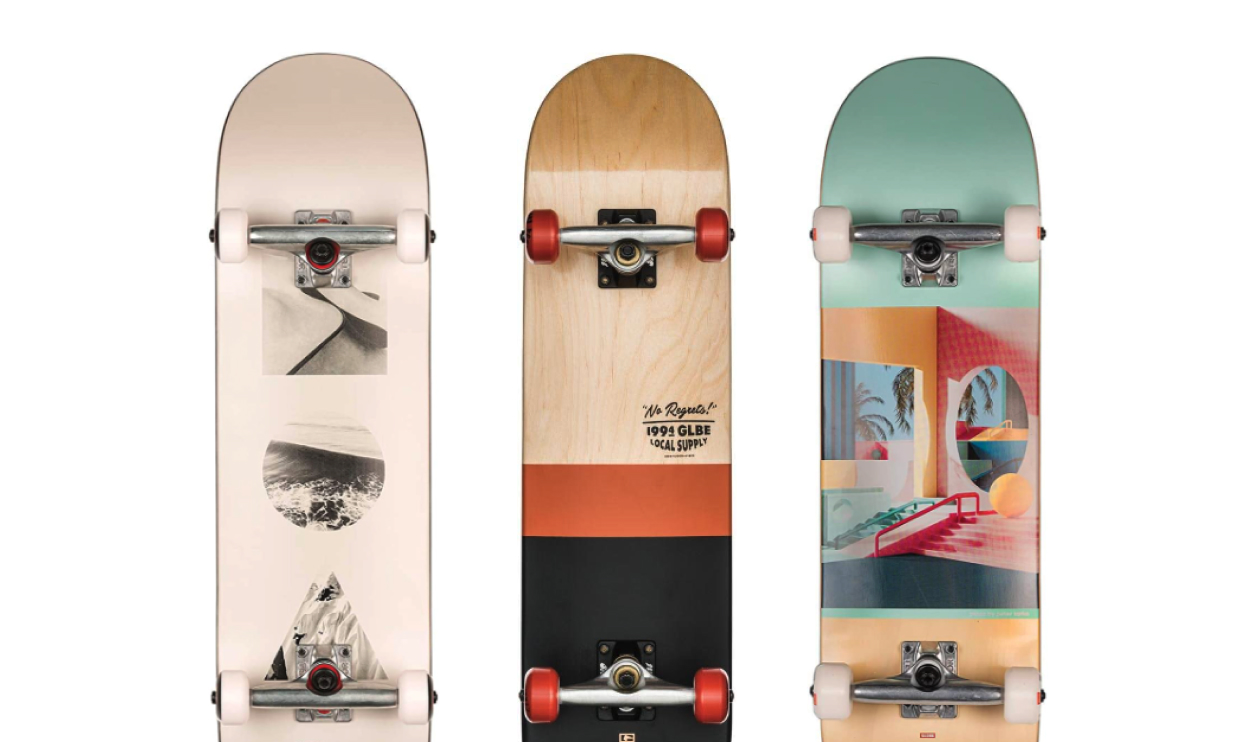 If you're not ready to customise your ride just yet, the Globe complete skateboards are an ideal choice for beginners.
They come with pro-grade components so you'll get off to a great start. Each complete board comes fitted with Tensor or Slant trucks and quality bearings and wheels so you'll have a guaranteed smooth ride. 
Globe Cruiser Skateboards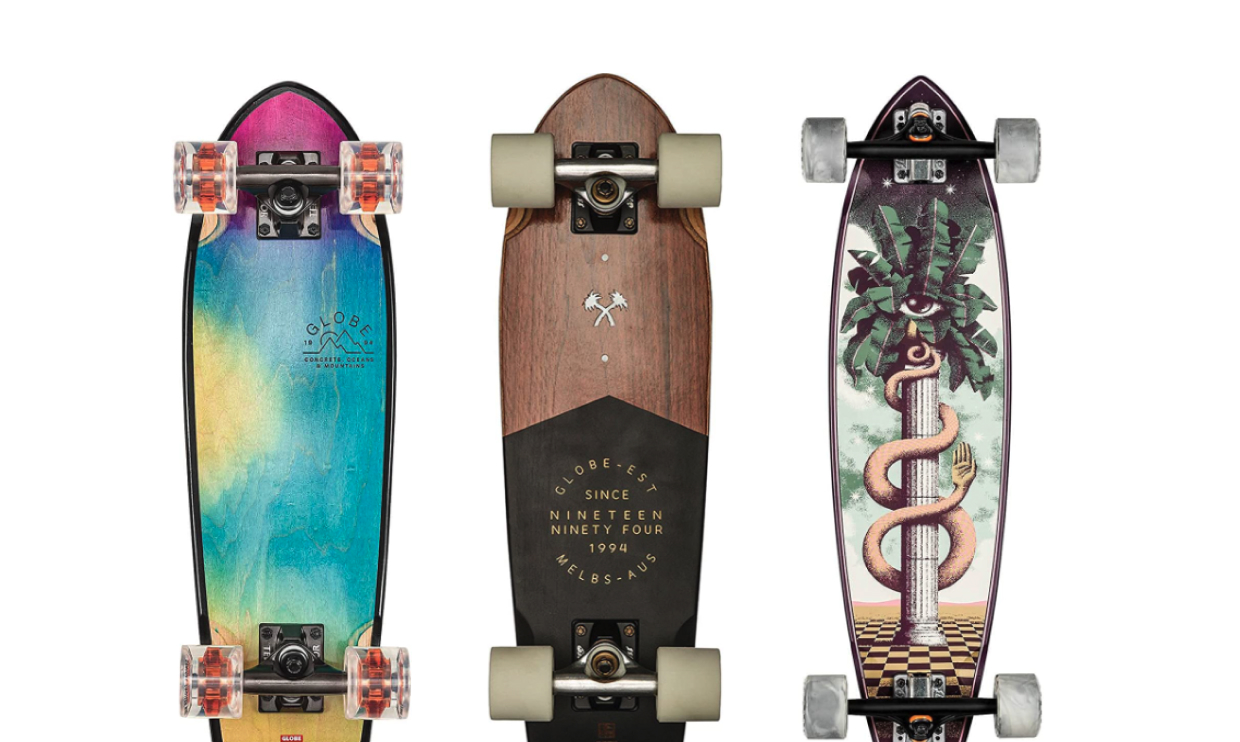 Globe is known for producing some of the best cruisers on the market. With the combination of materials, an amazing range of deck shapes and widths, and art gallery-worthy graphics, a Globe cruiser should be a staple in every boarder's collection.    
Globe Longboard
Whether you go for a Globe deck, longboard, complete skateboard, or cruiser, when it comes to Globe skateboards you'll be investing in premium quality. From the deck to the bearings, Globe skateboards come with the best components on the market for the smoothest ride you can get. 
Keep an eye out for their limited-edition collaborations too. They've teamed up with Pantone, Eames Office, and The Ramones to create collectible deck sets and complete skateboards with iconic graphics. 
Keep tabs on Globe 
You can follow Globe on the following channels and stay up to date with their new collaborations, product lines, and innovations.