When you're hitting the streets or the ramps on your skateboard, I would hope the number 2 thing you take (your board is obviously the number 1 thing) is a skateboard helmet. 
It's important to wear the right helmet when you are out on your board, one that is specifically designed for skateboarding will give your melon the best protection and one that meets safety standards. 
What type of Helmet is best for skateboarding?
Helmet Safety Standards
When you're looking for a skateboard helmet that will give the best protection, check if the material meets sufficient safety standards. Check for EN 1078 and organizations such as the Consumer Product Safety Commission (CPSC) or the American Society for Testing and Materials (ASTM) in the product descriptions.
Skateboard Helmet Fit
Your helmet should fit snugly on your head without being too tight or too loose. It should also cover the back of your head and your temples. Your skateboard helmet also needs to have a chin strap to keep it nice and secure on your head.
Skateboard helmets will come in a range of sizes, so try a few on if you can or measure your head to get a better idea of the right size for you. 
Most helmets will come with adjustable foam inserts so you can create a snug custom fit if your heads in-between sizes.
As well as a skateboard helmet, you should also consider wearing other protective gear such as elbow pads, knee pads, and wrist guards. I would definitely recommend this if you're a beginner as you're likely to be hitting the deck quite a lot.
It's also a good idea to kit out young children with the pads too. Some falls are enough to make a grown-up cry, so to help your little one recover a little quicker make sure they are fully protected. 
Just a little caveat; wearing a helmet and other protective gear won't stop you from having an accident or a fall, but what they can certainly do is reduce the severity of any injury if you do. 
So, always make sure you wear a proper helmet and other protective gear when you're out on your board. 
Now we've got the technical stuff out of the way, let's talk helmets. We've put together a short list of our favorite skateboard helmets, that tick all the safety boxes and are easy on the eye too. 
For more advice on skateboard helmet safety, read this CDC skateboard helmet fact sheet. It explains how to get the size and achieve a good fit, and how to take care of your helmet.
Rekd
REKD skateboard helmets are a popular choice for skateboarding because of their high-quality construction and advanced safety features. Their REKD Elite 2.0 helmet is a top-of-the-line helmet that offers exceptional protection and comfort for skateboarders. It comes fully certified surpassing both EN1078 and CPSC safety standards and comes with adjustable padding so you're guaranteed a great fit. 
They also have the Ultralite In-mold helmet, Youth ultralight in-mold, and Urbanlite Multi-purpose helmet in their range. For the full rundown on REKD helmets check out our Why REKD helmets are great for skateboarding article. 
Pro-Tec
Pro-tec is one the best names in helmets and has been around since 1973 making helmets for skate, biking, and water sports.  Pro-Tec is the most recognizable helmet brand for skating, bike & water. 
They have an extensive range of skate helmets with ABS shells and also a range of certified helmets that meet CPSC Safety Standards. 
The ranges that come certified are Classic, Full Cut, Old School, and the Pro Signature Series. 
Pro-tec has an amazing design variety, so there will definitely be something to compliment your individual style. 
Pro-Tec Helmet Classic Cert Tie Dye ADULT
TSG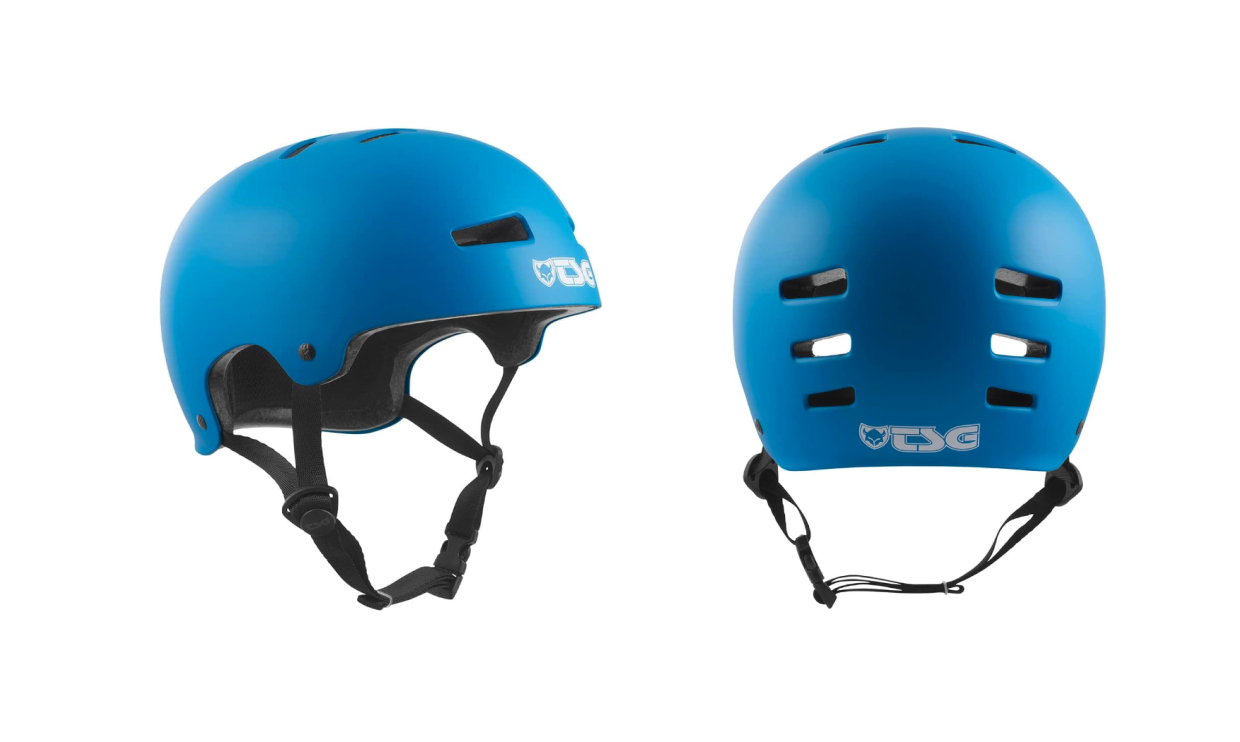 Founded by a group of pro snowboarders, and avid skateboarders, the TSG team is all about providing the best protection for thrill seekers.
Established in 1988 TSG helmets are designed to exceed certification standards and be lightweight for the most comfortable fit. 
They have a good range of styles and colours and they also supply spare parts and pad kits to make sure you achieve the perfect fit. 
TSG Unisex_Adult Helmet Evolution Solid Color Helmet
Triple8
Triple8 bought out its first skateboard helmet back in 1996 and has been creating tough protective headgear for the action sports industry ever since. 
Their classic skate helmets come with dual-certified protection for both skate and bike use and comply with ASTM skate safety standards. They also come with an ABS outer shell and are designed to be super light with a foam liner that molds to your head for a super comfy fit. 
The Triple 8 New York Sweat Saver helmet comes in 15 different designs and multiple size ranges to cover both adult and child-sized swedes.  
Triple 8 New York Sweat Saver Lizzie Armanto signature edition
S1
This UK-based skate helmet manufacturer has been producing their unique fusion foam Lifer helmet range for skaters and BMX riders since 2010. 
The S1 Lifer Helmet is arguably one of the best-fitting and safest helmets for skateboarding and longboarding. Its specially formulated EPS Fusion Foam will protect your head from multiple low-force impacts as well as high impacts. 
It's also certified to both CPSC and ASTM standards and comes in 5 sizes and multiple colours for the most comfortable fit. 
S1 Lifer Helmet – Multi-Impact & High-Impact Certified
So, that's the rundown of some of the best skateboard helmets out there. It's worth trying a few out to find out which ones work best for your head shape and size and what you find most comfortable.