RampWorld in Cardiff, Wales is one of the largest indoor skateparks with 27,000 square feet of Birchwood heaven for Skaters of all abilities.
Suitable for Skateboard, BMX, MTB, Inline, and Scooter; RampWorld in Cardiff offers a great mix of street and ramps (obvs), plus they have a huge foam pit to land in… if you can brave the 30ft roll-in ramp – see skatepark sections below.
Essentials
Opening times: Open from 9 am Sat-Sun, from 11 am on weekdays. Closing times vary.

See Google Maps




Less traffic on Sundays.

Price: 1 session £9 each

Address: Parc Ty Glas, Llanishen, Cardiff CF14 5DU

Parking: 60+ spaces, easy to park

Expert level: All levels – Beginner to Expert

Size/Capacity: 27,000 sq ft (the size of 6 basketball courts) / 379 people
Rating – 5/5
Skate sections: 5/5

Flow: 4/5

Traffic: 4/5

Facilities & Down time: 5/5
The skatepark sections
There's a wide variety of sections to choose from and switch between. 
Our favourite sections are the New Street Section because of the speeds you can reach and the Spine mini which has a great little 2ft halfpipe to perfect your tricks.
Foam pit and Resi ramp
30ft rolling vert into a huge foam pit
Jump Box Section
The two jump box sections are suited to BMX, Park Bikes, and Scooters. Although, if it's clear and you do want a challenge, it's worth trying them out on your board.
New Street Section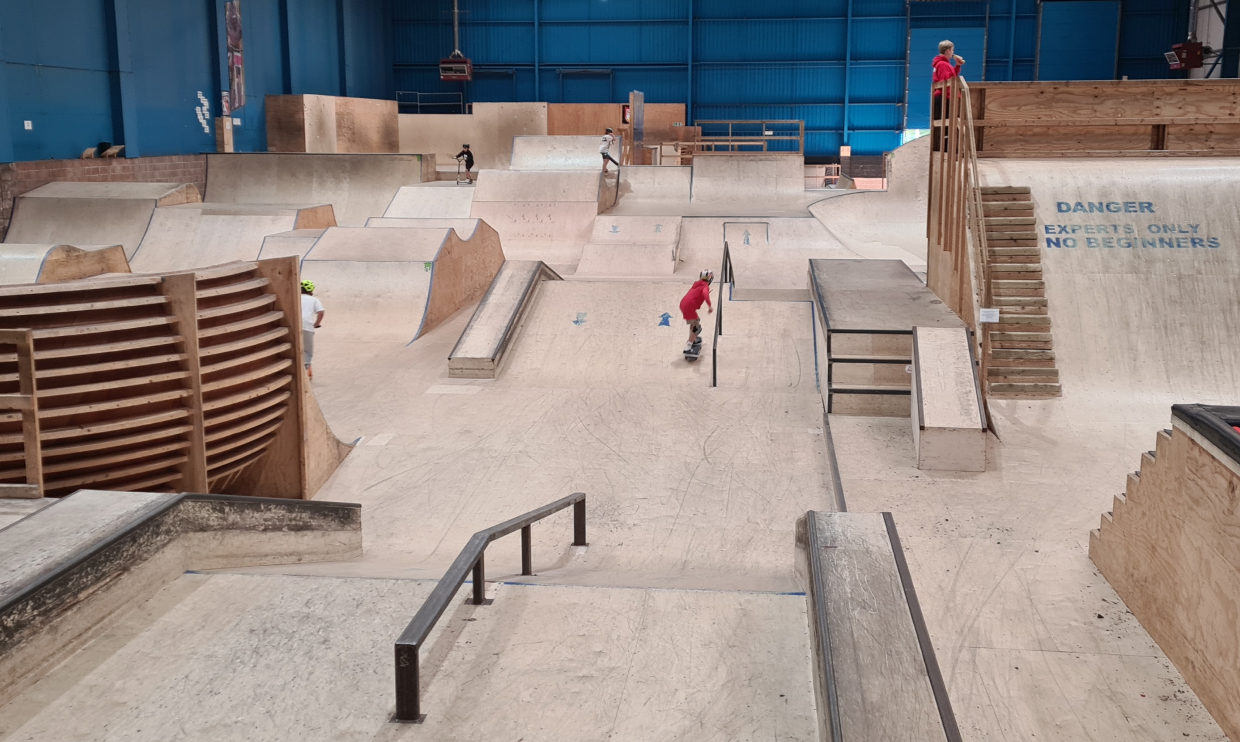 This section is all about speed and technique. Starting from a 4-5ft quarter pipe, drop-in and get as much speed as you can down the long straight. 
Hit the A-Frame in the middle and get as much air as possible to keep your speed. Fly up the ramp, then kick-turn or drop in at the end and come back twice as fast!
Mini half pipe
The mini halfpipe is 3ft tall, but not very long and the surface of the ramp needs some TLC. But, providing you get enough speed, this is a great little area that doesn't get very busy.
Spine mini
2ft, 3ft, 4ft and 6ft halfpipes combined with a spine in the middle. The little 2ft section is great for honing your skills. The 6ft quarters are great for the more confident boarders.
Bowl
The bowl's made up of 2 sections which prove challenging. If you can turn quick and handle the speed, this is a great area for pumping and carving.
See all the RampWorld park sections
Flow
The flow of Ramp World in Cardiff is pretty smooth, even when it's reasonably busy. 
The spine mini ramps have plenty of space, so this is always a good area to head to.
When you're on the new street section, you can get a few traffic jams, especially when scooter riders are using the old street section. But, when it's clear, the new street section flow is so smooth and fast, it's a dream.
The foam pit, resi and bowl are good places to escape to if the traffic builds. 
Also, it's worth noting that Sunday morning sessions seem to be lower traffic than Saturday. Or, if you can make it in the week, then these sessions are much lower in traffic and the flow's better.
Watch the full Ramp World in Cardiff walk-through.
Facilities & Downtime
Cafe
The Cafe is great! Plenty of decent and quick grub like hotdogs and bacon sarnies. Plus, there are plenty of sugary drinks and sweets to keep you fuelled up.
Staff
The team at RampWorld are great. They're always super helpful and keep the park in good order.
They also keep the toilets nice 'n' clean. Thanks guys.
Shop
The shop is small but full of essentials. It's mostly geared toward scooters and accessories, but you can get a decent helmet or a cup of coffee.
Other things (FAQS)
Where's RampWorld?
In Cardiff, Wales – Parc Ty Glas, Llanishen, Cardiff, CF14 5DU
They're located at the rear of Marks and Spencers next to Jump, Soft play center. 
The nearest train station is Ty Glas, but Ty Glas has limited trains on Sundays. Llanishen train station is six minute walk away.
When was RampWorld built?
2013.
Construction method?  
Ramps are constructed with Birchwood ply.
Should I book in advance?
If you're going on the weekend, yes. But, if you're going in the week, don't worry about it.
When's the best time to go?
On weekends, Sunday mornings are good (go whilst everyone else is having a lie-in). Weekdays and evenings are also good.
Socials
Instagram: https://www.instagram.com/rampworldcardiff/
Facebook: https://www.facebook.com/RampWorldCardiff/
While we love ramp world, it isn't the only best indoor skate park in the UK, so let us know where you're favourites are.