From brain buckets to wheels, some boarders prefer to piece together their entire kit from scratch. If you're thinking of buying a complete skateboard in '23, here are ten of the best.
Are you thinking new year, new board?
Why not use the cash Grandma slipped in your hand at Christmas to help you start 2023 on a high note? The big question though is whether you should opt for a complete skateboard or customise your ride.
There are some seriously good reasons to go for a complete skateboard deck, rather than shopping around for all the right components, especially if you are a newbie. It can be easy to get your wheel size way out or find your board is all wrong when you progress to grinding rails or curbs.
Getting a complete skateboard from a quality manufacturer gives you intel on its level and capabilities. So, you can progress to different boards when your skills and confidence grow, or just add different wheels to a complete deck to alter its abilities.
Let's be honest – getting a readymade skateboard deck also makes life easier and leaves more time to be out using it!
But which is cheaper, a build-your-own or a complete skateboard? The answer is often a complete one!
What is a complete skateboard?
To help you get a sweet ride in 2023, we've outlined our top ten skateboarding decks below. But first, if you are new to this, what is it you're buying?
You'll possibly hear the term "completes". This simply means skateboards that are pre-assembled with all their necessary components. This includes the three basic skateboarding structures – the deck (the board your feet go on), the truck (often a metal bracket that holds the wheels to the deck), and the wheels.
The sizes of these can vary according to preference and skill levels – with dimensions altered to be ideal for speed, slalom, or freestyle, for instance. All completes will have a deck with a clear nose and tail, and will be concave in the middle.
The BIG thing to 'catch' in all this though is that cheap, mass-produced, ready-assembled skateboards are made from nasty wood, wheels, and bearings that won't last, or worse still, will give you an unpleasant or unsafe ride!
Which is exactly why you need to know the top 10 skateboard complete decks by brand!
Venom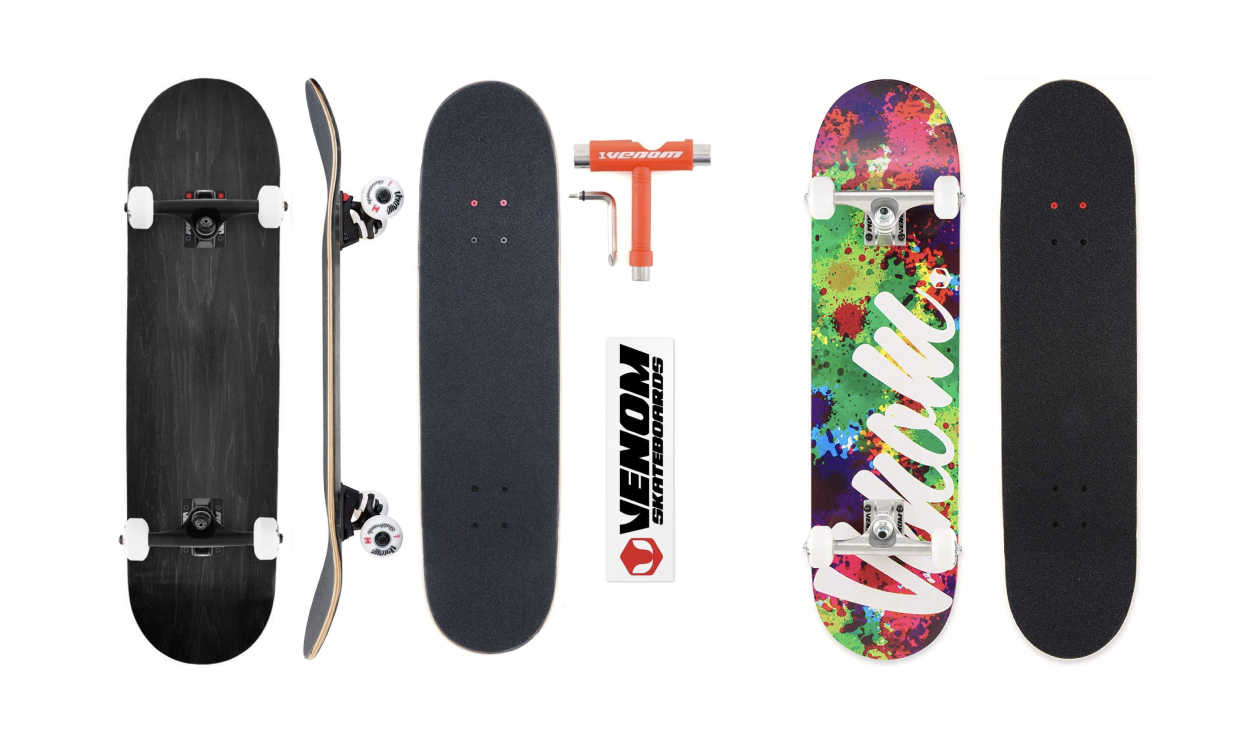 The best skateboards to buy ready-built don't have to be the most expensive. For example, Venom Skateboard is a brilliant brand for affordable complete boards that can stand up to considerable knocks.
A telling factor is that board riders design and manufacture these products. Two to look for:
1. Venom Pro Skateboards Complete Skateboard – Kick Trick Skateboard.
It's great for new or developing riders of any age, as you can choose your own deck size. As it's blank, go wild decorating it to stamp your personality on your board!
2. Venom Beginners' Splash Full Size Deck.
This one has a distinctive design and the ideal dimensions for newbies aged nine and older. Check out those Urethane skateboard wheels which are a sign of a well-made complete skateboard.
Santa Cruz
The longest-standing continuous skateboard company on the planet – Santa Cruz was started by three surfing friends!
This massively successful skateboard supplier still makes surfboards, longboards, and snowboards too. Three of their best are:
1. Santa Cruz Pro Complete Skateboard Lava Lamp Purple
This is larger at 8.25" and features rad artwork by Thomas Fernandez
2. Santa Cruz Dot Complete Skateboard
A complete skateboard that's 8" in width and 31.25" in length and built to be super strong but also light and smooth to handle. This one is a great skateboard for kids.
3. Santa Cruz Skateboard Obscure Dot
A lightweight but strong 7.75″ x 30″ multicoloured board with excellent foot placement and wheel-turning features.
Birdhouse
Birdhouse Skateboards is best known for being founded by the sport's most iconic rider – Tony Hawk – but other famous names have been involved over its long history. It's big on innovation too, including these two modern options:
1. Birdhouse Stage 3 Plague Doctor Complete Skateboard
This 8.0″ ready-to-use skateboard features Tony Hawk's name and some truly eye-catching design work to decorate a robust and great performing board for anyone who wants to 'buy and ride'.
2. Birdhouse Vertigo Stage 1 Factory Complete Skateboard
This is a black and white 7.75″ deck made from maple, that's ideal for all genders and priced to be affordable.
Enuff
English manufacturer Enuff Skateboards understands that looks aren't everything, but a great design adds to the pleasure a board can provide! So, expect affordable complete skateboards with loads of decks to choose from, including:
1. Enuff Skateboards Icon Mini
This one comes in a smart pastel design and is 7.25″x 29.5″, making it great for adults who want a ready-built skateboard. It's a good price for a high-quality maple deck and durable wheels.
Low in price but high in visual appeal and performance, this complete skateboard option has a 7.75" by 31" deck making it a great entry-level ride.
3. Enuff Skully Complete Skateboard
Choose your colour and whether you want a regular (7.75" x 31.5") or mini (7.25" x 29.5") version, for a sturdy complete skateboard for children or newbies.
Make your board your own
Once you know the leading skateboard brands, and the best size skateboard for your age, weight and ability level, the next thing to think about is what design you really like. Buying a complete skateboard still gives you loads of options to make your board personal.
And when you're ready to ride, check out eight of the best indoor skate parks the UK has to offer.
DISCLOSURE: This post contains some affiliate links, which means we get a commission if you make a purchase through my links. There is no extra cost to you. We are independently owned and the opinions we express here are our own.