Sky Brown took the skateboarding world by storm – and raised its profile hugely – when she became Britain's youngest-ever Olympic medal winner.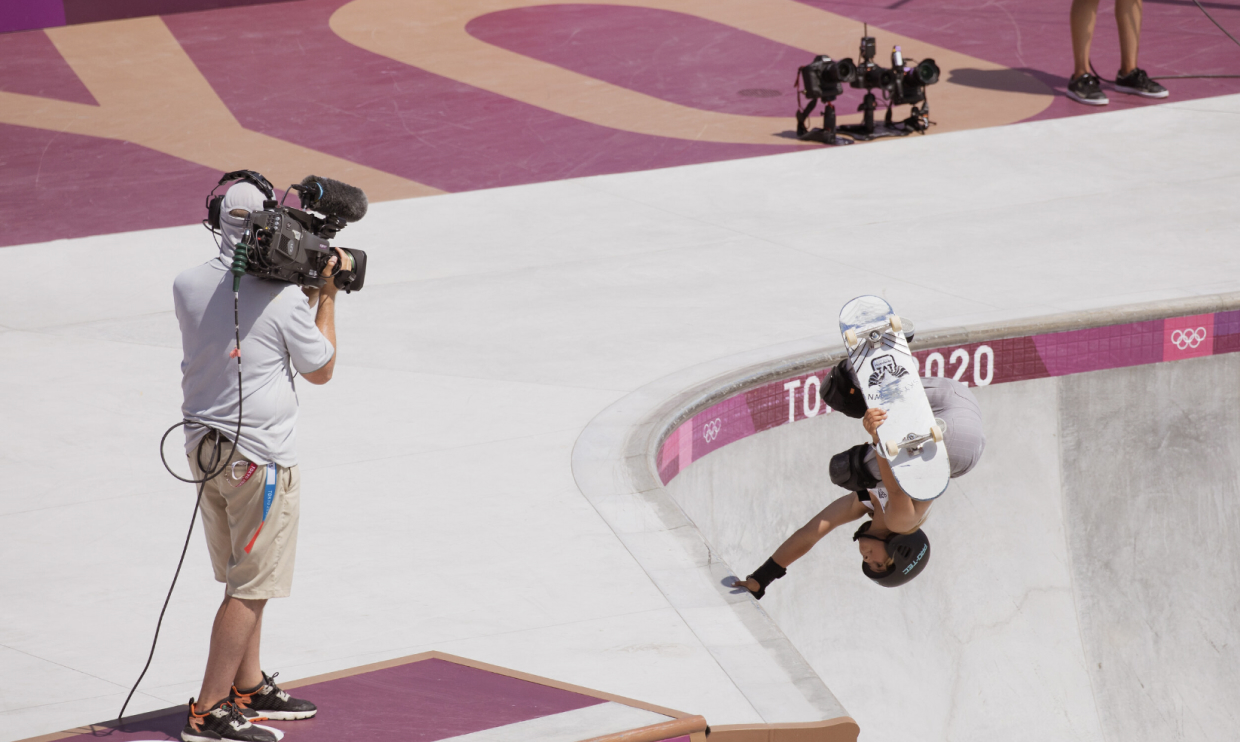 Age: 14
Hometown: Miyazaki, Japan, and Huntington Beach, California
Global Rank: 83
Stance: Goofy
Instagram: @skybrown
Introducing Sky Brown
Skateboarding (finally) became an official Olympic sport in the 2020 Summer Olympics, which took place in Tokyo in 2021. Another reason this was a 'milestone moment' for the sport was that Britain was represented by its youngest ever Olympiad – 13-year-old boarder Sky Brown.
It gets better, as Sky went on to become Britain's youngest-ever medal winner when she stunned audiences with a stellar performance and scooped Bronze in a gripping women's skateboarding park final.
Just to add to the drama, this is someone who suffered life-threatening injuries in a fall only months before her triumph on the world stage!
Sky Brown's early years
As she was only 12 when she qualified for the Olympics, Sky's 'early years' are pretty much her life to date.
Sky Brown's riding style is Goofy (right foot forward)
Her parents are Japanese (mother Miko) and English (father Stuart), and she has a younger brother called Ocean. It appears skateboarding is a family hobby, so no doubt Sky got her first board in preschool. She even has a practice ramp in her garden.
Sky chose to represent GB, but she lives in both Japan and California.
You can see her in action on Instagram and YouTube, as not surprisingly, Sky is now a major skateboarding social media star, with millions of followers.
Other achievements to date
Before she hooked a global audience with her breathtaking Olympic performance, Sky was already filling her trophy shelf, including winning a bronze medal at the 2019 World Championships in Sāo Paulo. In the same year, she became the first female skateboarder to land a frontside 540, at the X Games.
Back in 2016, at just eight years old, Sky Brown became the youngest ever person to compete in the Vans US Open.
Sky is also the youngest Nike-sponsored athlete in the world, rubbing shoulders with the likes of Serena Williams and Simone Biles. She gets support from Almost Skateboards and the non-profit organisation Skateistan too.
To add to her impressive record, Sky Brown won 'Dancing with the Stars: Juniors' (a US TV show) in 2018.
Who is Sky's Coach?
Sky doesn't actually have a coach and gets a lot of her inspiration from Youtube videos. Apart from her parents – and her supportive skateboarding communities in California and Japan – Sky says she has been inspired by skaters Leticia Bufoni, Nyjah Huston, Tony Hawk, and surfers Coco Ho, Carissa Moore, and Kelly Slater. 
What about that fall though?
The delay in staging the 2020 Olympic Games worked in her favour, as Sky Brown took a training fall in 2020 that resulted in horrific injuries. A misjudged halfpipe ramp left her with several skull fractures, as well as a broken left wrist and hand. Her father is quoted as saying she was fortunate to survive.
Clearly, Sky saw it as a brief interruption to her Olympic prep, and she put it firmly in her back mirror when she wowed the judges on the world stage.
It's the sort of tenacity that suggests there is a LOT more to come from the remarkable Sky Brown. Interestingly, that may not just include skateboarding for Team GB in the 2024 Olympics, as she is also a keen and gifted surfer!
Sky's the Limit
When it comes to pushing the limits and breaking the mold, Sky Brown is a pro. As a skateboarder, surfer, and one of the first-ever winners of Dancing with the Stars: Juniors, she knows what it means to take risks and never back down from a challenge. In 2020, Brown released her first book "Sky's the Limit: Words of Wisdom from a Young Champion," a collection of inspirational quotes and photographs of the rising star.
Another skater you might be interested to read about is Peter Ramondetta. He's known for destroying the streets and tackling spots around his home city of San Francisco, California.