One of the world's largest skateboard brands, Globe, loves collaborating and getting creative with its deck designs. They've worked with Pantone, and The Ramones and are now, teaming up with the Eames Office to create a stunning collection of walnut-veneered Globe skateboard decks. 
Eames Office x Globe
There are 3 Globe skateboard decks in the Silhouette Series, which are double-sided silk screen printed with a historic photo printed on the top side and a matching motif graphic on the underside. Each one is designed to memorialize 3 of the duo's most iconic designs; the Solar Do- Nothing-Machine", "Plywood Sculpture", and the "Hang-It-All". 
The fourth design is a complete skateboard and one of Globes' iconic Blazer cruisers with the Eames Toy pattern on the underside. Made from Rosewood and Maple there is no expense spared when it comes to the detail. 
The deck bolts feature the 'sunburst' icon, there are quotes in the House Industries x Eames typeface and the wheel mouldings are inspired by the Eames folding plywood screen. 
If you didn't already know, Charles and Ray Eames are among the most influential American designers of the 20th Century. Their innovative works span the architecture scene, furniture design, industrial design and photographic arts.
Both Globe and Eames share an appreciation for craftsmanship, the details and taking your pleasure seriously. Not to mention a keen interest in the ability to mould plywood. The pioneering press used to create the famous 'Molded Plywood Sculpture' also influenced how skateboards are made today. 
Eames Office x Globe skateboard deck collection
The Silhouette Series
Each board in the Silhouette Series is priced at a reasonable $124.95 and comes with its own co-branded wall mount. So, while you could fit it out for a ride, these decks are made to be displayed and cherished as works of art.  
Each deck is pressed from specialty walnut veneer and features iconic art extending the legacy of Charles and Ray Eames. 
Eames Silhouette Deck – Plywood Sculpture
Eames Silhouette Deck – Hang-It-All
Eames Silhouette Deck – Solar Do Nothing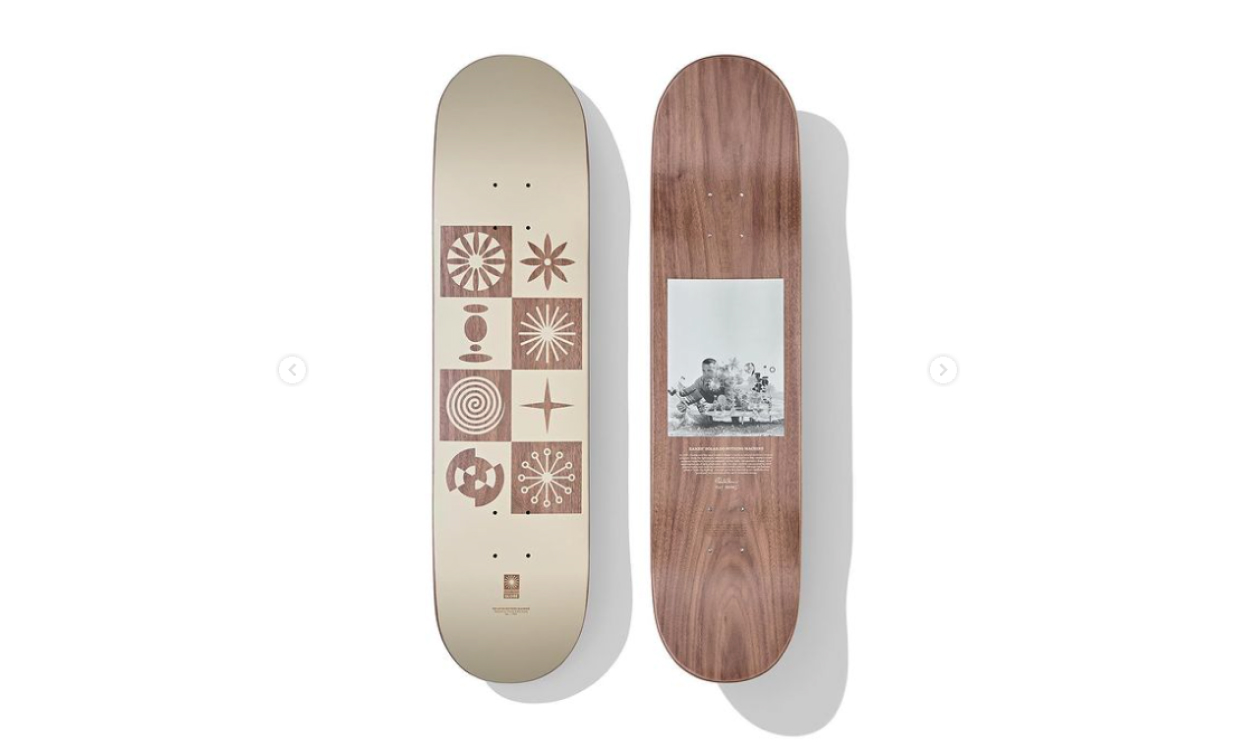 The Blazer 26″ Cruiser – Eames/Play
The Blazer is a 26-inch cruiser with a mini diamond tail and soft conical wheels. It has a mellow concave with a cute kicktail and is made from a Rosewood and Resin-7 hard rock maple blend. The Blazer comes complete with trucks and wheels and is ready to roll. 
The graphics on the board are inspired by the 'Eames Toy', a large-scale modular construction toy. Made up of triangular and square panels in the same colours and wooden dowels, the idea is to create your own imaginary world. 
Another successful collaboration from Globe and even more amazing decks to be displayed. As soon as they're back in stock, we'll be getting our order in.
All images sourced from the GLOBE Instagram account